Home | I-ROD | Corrosion Under Insulation (CUI) | Thermal / Infra-red | Rope Access

I-ROD Pipe Supports

We have the FINAL answer to crevice corrosion at pipe supports!

Conventional pipe support designs trap water, which soon leads to corrosion that can eventually cause pipe failure. I-ROD pipe supports provide an electrically isolated stand-off between the pipe and the supporting beam or saddle clamp are the only true protection against crevice corrosion.

Corrosion at pipe supports – the video below highlights the process; Install the jacking system, raise up pipe system, remove clamp, perform NDT, install I-ROD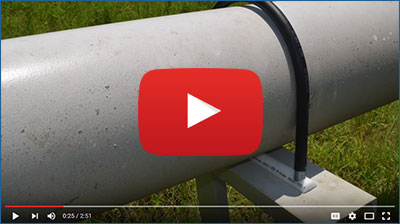 Our specialist access teams are self- sufficient and require ZERO in terms of facility support, cranes, scaffolding etc in performing the removal of and installation of the IROD Clamp. Our typical process is not only fast and efficient but SAFE. Corroded areas are also subject to NDT to determine the presence of crevice cracking and extent of material wall loss before any new clamp is installed.

I-Rod has been installed many thousands of times worldwide since the 1980s!

100s of refineries and facilities are using I-ROD. Here's a brief list!

Carson Refinery (Tesoro), Carson, CA
Golden Eagle Refinery (Tesoro), Martinez, CA
Los Angeles Refinery (Tesoro), Wilmington, CA
Martinez Refinery (Shell), Martinez, CA
Commerce City Refinery, Suncor Energy, Commerce City, CO
Lemont Refinery (Citgo), Lemont, Il
Joliet Refinery (ExxonMobil), Joliet, IL
Wood River Refinery (Phillips 66/Cenovus), Roxana, IL
El Dorado Refinery (HollyFrontier), El Dorado, KS
McPherson Refinery (NCRA by CHS Inc.), McPherson, KS
Convent Refinery (Motiva Enterprises), Convent, LA
Norco Refinery (Motiva Enterprises), Norco, LA
St. Paul Park Refinery (Northern Tier Energy), St. Paul Park, MN
Billings Refinery (Phillips 66), Billings, MT
Billings Refinery (ExxonMobil), Billings, MT
Bayway Refinery (Phillips 66), Linden, NJ
Paulsboro Refinery (PBF Energy) Paulsboro, NJ
Nustar Refinery (Nustar Energy) Paulsboro, NJ
Canton Refinery (Marathon Petroleum Company), Canton, OH
Toledo Refinery (PBF Energy) Toledo, OH
Ponca City Refinery (Phillips 66) Ponca City, OK
Tulsa Refinery East & West (HollyFrontier), Tulsa, OK
Tesoro Anacortes Refinery (Tesoro), Anacortes, WA
Tacoma Refinery (U.S. Oil and Refining), Tacoma, WA
Douglas Refinery (Genesis Energy), Douglas, WY
Honeywell Specialty Materials, Baton Rouge, LA.
Honeywell Specialty Materials, Geismar, LA.
ExxonMobil Refinery, Baton Rouge, LA
The Dow Chemical Company, Plaquemine, LA
Dow Chemical USA, Freeport TX
PCA (Packaging Corporation of America) Deridder Containerboard Mill, Deridder, LA
Union Carbide Corp., Seadrift, TX
Union Carbide Corp., Hahnville LA
ExxonMobil Refinery, Chalmette
Columbia Pipeline Group, Rayne LA
Phillips 66 Refinery, Belle Chasse LA
Sabine Pass LNG Terminal, Cameron Parish, La
Mobil Altona Refinery, Altona, VI
ExxonMobil Australia Yarraville Terminal, Yarraville, VIC
Australia Pacific LNG Facility, Curtis Island, QLD
Gladstone LNG Facility, Curtis Island, QLD
Shell Mossmorran
Essar Stanlow
Valero Milford Haven
Shell Pernis (Rotterdam)
Sabic Gelleen
Nustar Amsterdam
Nustar Grangemouth
BP Grangemouth
Total Lindsey
Petroplus Teeside
Esso Fawley
Tjeldbergodden methanol plant